Workshops & Events
Pathways to a Centered Body - Yoga Therapy for the Spine, Pelvis and Legs with Leila Stuart RMT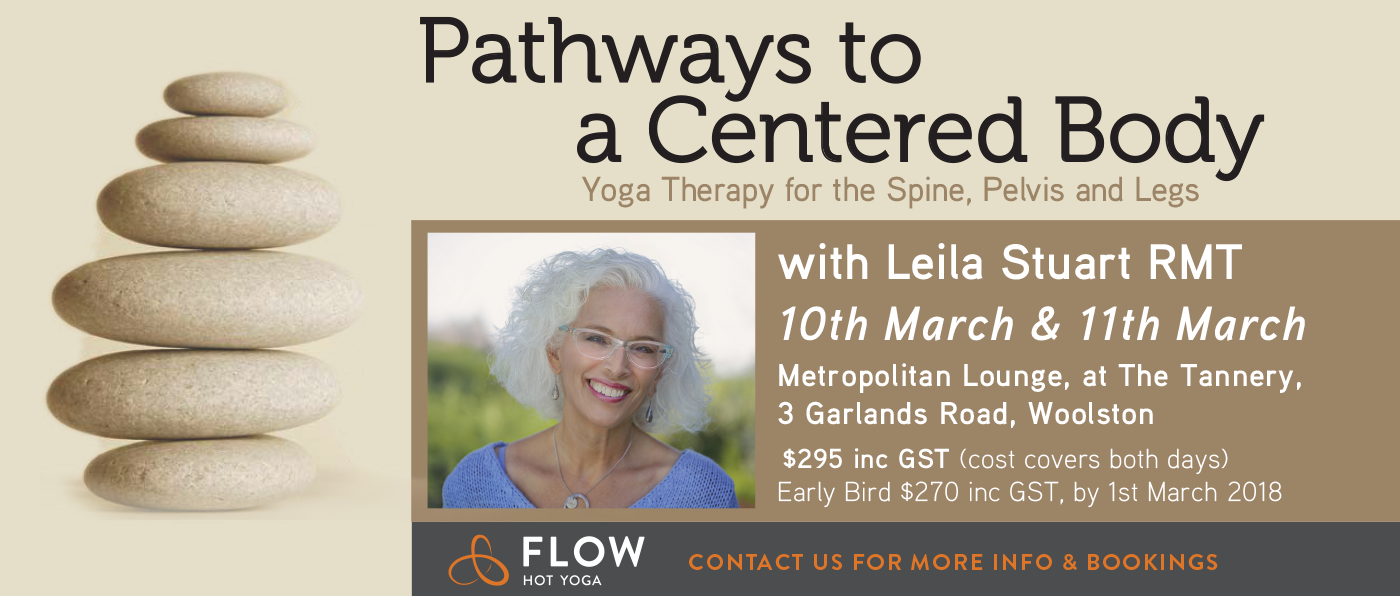 Saturday 10th March 2018, 12pm-5pm
& Sunday 11th March 2018, 12pm-5pm
​
Metropolitan Lounge, at The Tannery,
3 Garlands Road, Woolston
$295 inc GST (cost covers both days)
Early Bird $270 inc GST, by 1st March 2018
Book at Flow Hot Yoga Reception.
P (03) 348 8889
E info@flowhotyoga.co.nz
The psoas is a muscle of integration. It bridges the back to front body, top to lower body, core to periphery, spine to limbs and deeper self to public self. In this workshop you will learn principles and practices drawn from Leila's new book co-authored with Donna Farhi.
• Access, relax and lengthen your psoas to its maximum resting length through experiential anatomy.
• Experience your psoas as a source of core stability and centrally initiated movement.
• Explore the role of your psoas in spinal, hip and pelvic alignment and dysfunction.
• Engage the psoas to feel more deeply centered in your true self and access your inner power.
About Leila Stuart (Visit: www.leilastuart.com)
Take advantage of this rare opportunity to study with Leila Stuart, international Yoga Therapy teacher and trainer, online educator with YogaUonline, conference presenter and co-author with Donna Farhi of Pathways to a Centered Body. Click below to listen to Leila as she speaks about experiential anatomy.
(Visit: Interview with Leila Stuart )
---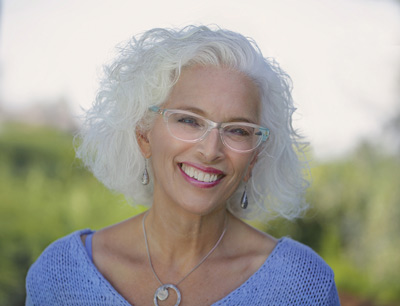 Leila Stuart, Registered Massage Therapist C-IAYT and has practiced and taught yoga for over 40 years.
Leila developed and taught an innovative Yoga Therapy training for 15 years, focusing on experiential anatomy, movement repatterning and embodiment of the deeper teachings of yoga as pathways to self-healing. With a deep love and intuitive knowledge of experiential anatomy, Leila specializes in transforming academic information into somatic awareness and life changing experience. She is the author of The Great Yoga Handbook and has co-authored with Donna Farhi, Pathways to A Centered Body. She teaches in Canada and internationally.
Hañsa Yoga Therapy Teacher Training with Vincent Bolletta
Enrol now for 2018/19 courses
2018
PART ONE - 100HR TRAINING
Friday 27th July - Wednesday 1st August and
Saturday 4th August - Wednesday 8th August
2019
PART TWO - 100HR TRAINING
Friday 26th July - Wednesday 31st July and
Saturday 3rd August - Wednesday 7th August
$1800.00 per 100hrs ($1500.00 Early Bird)
200hr Yoga Therapy Teacher Training program
Broken into 2x 100hr trainings, with option to do one or both.
Designed to assist you to:
Embark on a flexible and meaningful yoga therapy career, enabling you to help others.
Enhance your personal development and deepen your transformational journey.
Gain international recognition to open worldwide opportunities in yoga therapy.
Venue
The Vineyard at Rossendale Event Centre, 100 Old Tai Tapu Road, Halswell, Christchurch
Bookings
Bookings And Enquiries Through
For more information of the syllabus please click here
Flow Hot Yoga
25 Mandeville St, Riccarton
Phone 03 348 8889
flowhotyoga.co.nz

Contact
e. info@flowhotyoga.co.nz
p. 03-348 8889
25 Mandeville Street,
Riccarton, Christchurch, 8011
---
Boutique Hours
Mondays – Thursdays 8.30am–8pm
Fridays 8.30am–6.30pm
Saturdays 7.30am-11.30am & 3pm-6pm
Sundays 3pm-6pm